September 25, 2022 10:00am
Contact: Josh StellyJosh Stelly
It was 1979 when Pastor Monte came on staff to serve under his dad, Pastor Norm LeLaCheur, who was Senior Pastor of First Church of the Open Bible. Pastor Monte served as Assistant to his dad for fifteen years before being elected as Senior Pastor in August of 1993.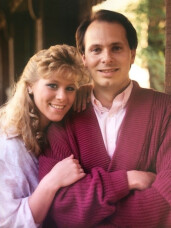 Both Pastor Monte and Amy Jo have faithfully served this church for the last 29 years as Senior Pastors. They have led Turning Point Church through many significant seasons of growth, change, new building location, and kingdom impact. Their value in presenting the Gospel of Jesus cannot be measured. Our church stands strong on the legacy they have created.
Pastor Monte and Amy Jo will be entering a new season of change in their ministry, and we are inviting you to come celebrate Sunday, September 25 during the 10am service with a reception to follow.
An opportunity to financially bless Pastor & Amy Jo will be available, culminating with a love offering on September 25. You can give cash or check in the Sunday morning service —mark "LeLaCheur Gift" on your giving envelope or you can give online and place the gift under the fund: Special Speaker/Offering.